Grapefruit Cake with Grapefruit Cream Cheese Frosting
By
Paula Deen
JUMP TO RECIPE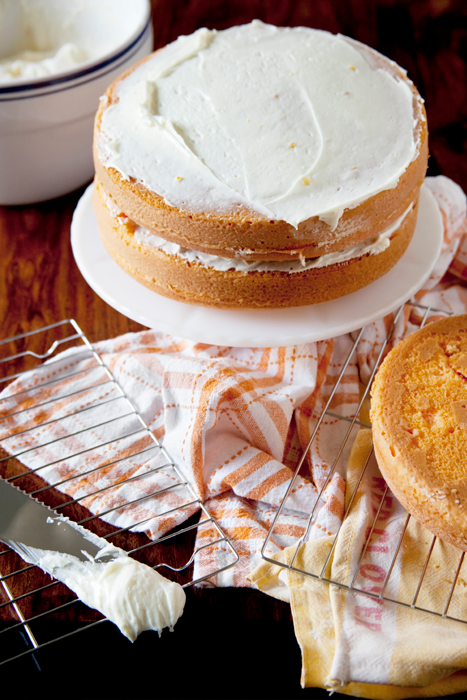 Difficulty: Medium
Prep time: 15 minutes
Cook time: 15 minutes
Servings: 15
Ingredients
1 1/2 cups sifted cake flour
3/4 cup sugar
1 1/2 teaspoons baking powder
1/2 teaspoon salt
1/4 cup water
1/4 cup vegetable oil
1/2 teaspoon plus 1 teaspoon for frosting grapefruit zest
3 tablespoons plus 2 teaspoons for frosting grapefruit juice
3 egg yolks
3 egg whites
1/4 teaspoon cream of tartar
2 6oz) packages cream cheese
3/4 cup sifted powdered sugar
6 to 8 drops (optional) yellow food coloring
1 (16 oz) can well drained grapefruit sections
Directions
Preheat oven at 350 °F. Line cake pan with waxed paper and spray with nonstick oil.
Sift together flour, sugar, baking powder and salt into a mixing bowl. Make a well in the center for wet ingredients. Add water, oil, 1/2 teaspoon zest, 3 tablespoons grapefruit juice and egg yolks. Beat until smooth. Beat egg whites and cream of tartar separately until whites are stiff but not dry. Gradually fold egg whites into flour mixture with a rubber spatula until just blended. Do not stir the mixture.
Pour batter into prepared 9″ cake pan.
Bake for 25 minutes or until cake springs back when gently touched with a finger. Invert pan on cake rack to cool. Run spatula around edge of cake. Carefully remove from pan. With a serrated knife, gently cut layer in half.
Grapefruit Cream Cheese Frosting:
Let cream cheese soften to room temperature. Beat cheese until fluffy. Add 2 teaspoons grapefruit juice and 1 teaspoon zest. Gradually blend in sugar. Mix until well blended. Add food coloring. Crush several grapefruit sections to measure 2 teaspoons.
Blend into frosting. Spread frosting on bottom half of cake. Top with several grapefruit sections. Cover with second layer of cake. Frost top and sides. Garnish with remaining grapefruit sections.