Glazed Barbeque Shrimp
By
Paula Deen
JUMP TO RECIPE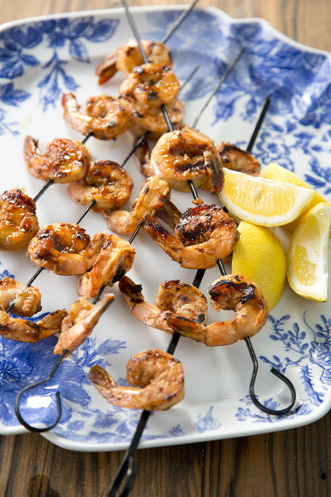 Difficulty: Easy
Prep time: 10 minutes
Cook time: 10 minutes
Servings: 10
Ingredients
1 1/2 lb peeled and deveined jumbo shrimp
2/3 cup recipe follows, or store-bought barbeque sauce
1/3 cup apricot jam
2 teaspoons plus 1/3 cup apple cider vinegar
1/4 teaspoon crushed red pepper flakes
1 (8 oz) can tomato sauce
3 tablespoons molasses
2 tablespoons ketchup
2 tablespoons minced onion
2 tablespoons dark brown sugar
1 tablespoon grated fresh ginger
1/2 teaspoon plus more for shrimp salt
1/4 teaspoon freshly ground, plus more for shrimp black pepper
2 cloves finely chopped garlic
1 seeded and minced, optional jalapeño
Directions
Preheat the grill to medium-high heat and brush the grate with oil or spray with nonstick cooking spray.
Rinse the shrimp and pat dry with paper towels. Sprinkle all over with salt and pepper.
In a small bowl, whisk together the Barbeque Sauce, apricot jam, 2 teaspoons vinegar and red pepper flakes. Toss two-thirds of the sauce with the shrimp, and reserve the remaining one-third for basting. Skewer the shrimp through the head end and the tail end, so the shrimp are skewered in two places, the top and the bottom.
Transfer the skewers to the grill. Close the cover and cook for 1 minute per side. Baste the shrimp with the reserved sauce, close the cover and cook until the shrimp are opaque and well glazed, 30 seconds per side.
Barbecue Sauce:
In a medium saucepan over medium heat, combine the tomato sauce, 1/3 cup vinegar, molasses, ketchup, onion, brown sugar, ginger, salt and pepper, garlic and jalapeño, if desired. Simmer the sauce until slightly thickened, about 15 minutes.