Gingerbread Cupcake Batter Pancakes
By
Stefani Pollack
JUMP TO RECIPE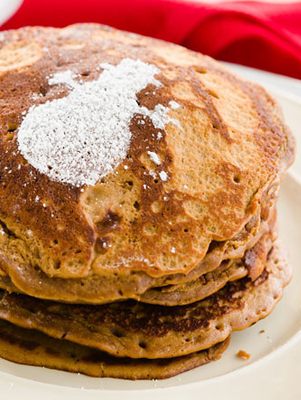 Difficulty: Easy
Prep time: 10 minutes
Cook time: 10 minutes
Servings: 9
Ingredients
½ cup granulated sugar
½ cup molasses
2 cups all-purpose flour
1½ teaspoons baking powder
½ teaspoon baking soda
½ teaspoon salt
½ cup unsalted butter, melted and returned to room temperature
2 large eggs, room temperature
½ teaspoon vanilla extract
1½ cups whole milk
1 tablespoon cocoa powder
1¼ teaspoons ground ginger
1 teaspoon ground cinnamon
½ teaspoon ground allspice
½ teaspoon ground nutmeg
maple syrup, to taste
powdered sugar, to taste
Directions
Pulse all ingredients in a blender until combined, but not completely smooth. The batter should be lumpy.
Heat a griddle or skillet to medium-low heat and lightly grease it with oil or a small pat of butter.
Pour a 6-inch circle of batter in the center of the cooking surface. When bubbles begin to form in the batter, flip the pancake. Cook for another two minutes on the other side and turn out to a plate. Repeat until all pancakes are cooked.
Serve warm with maple syrup and powdered sugar.