Chocolate Gingerbread Cupcakes
By
Stefani Pollack
JUMP TO RECIPE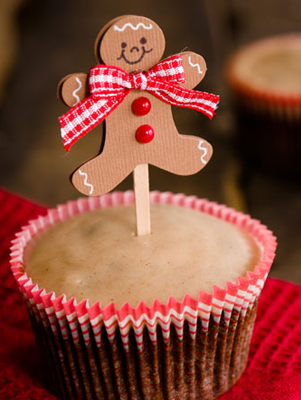 Difficulty: Easy
Prep time: 20 minutes
Cook time: 20 minutes
Servings: 10
Ingredients
Chocolate Gingerbread Cupcakes
¾ cup unsalted butter, room temperature
½ cup sugar
1 large egg
½ cup molasses
1 cup all-purpose flour
½ cup cocoa powder
½ teaspoon salt
¾ teaspoon baking soda
1 teaspoon ground ginger
½ teaspoon ground cinnamon
¼ teaspoon ground cloves
¾ cup brewed or instant coffee, near boiling
Glaze
¾ cup powdered sugar, sifted
¼ teaspoon orange extract
½ teaspoon ground ginger
¼ teaspoon ground cinnamon
1 tablespoon + 1 teaspoon whole milk
Directions
Chocolate Gingerbread Cupcakes
Preheat oven to 350˚F.
In a medium-sized mixing bowl or bowl of a stand mixer, mix butter and sugar until light and fluffy (about 3 minutes).
Mix in the egg and molasses until fully combined.
In a small mixing bowl, whisk together the flour, cocoa powder, salt, baking soda, ginger, cinnamon, and clove.
Alternately, add the dry ingredients and the coffee to the wet ingredients. Mix well after each addition.
Bake for 20 minutes or until cupcakes bounce back when lightly touched.
Glaze
Mix all ingredients in a small bowl.  The glaze should be thick, but easily spreadable.
Spread onto cooled cupcakes.