Ghoulish Eyes
By
Paula Deen
JUMP TO RECIPE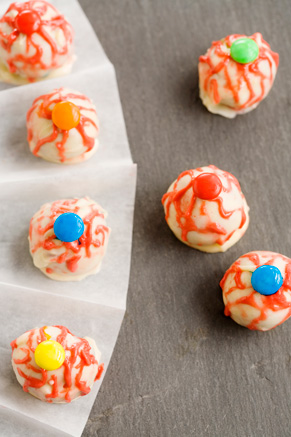 Difficulty: Easy
Prep time: 20 minutes
Cook time: 20 minutes
Servings: 20
Ingredients
1 (18.25 oz) package red velvet cake mix
1 (16 oz) container prepared cream cheese cake frosting
6 oz or bars white chocolate flavored confectioners coating disks
36 red candy coated chocolate pieces
red food coloring
Directions
Preheat oven to 350º
Prepare the cake mix according to the directions on the box. When cake is finished baking, allow to cool for 30 minutes. In a large bowl using a hand mixer or in the bowl of a standing mixer crumble the cake.
Add the frosting and mix until well combined. Place the bowl in the refrigerator for at least 3 hours or overnight.
Line a baking tray with wax paper. Using a melon baller as a scooper form balls of the cake mixture. Place on wax paper. Once you have used all of the cake mixture place the baking tray in the freezer for 1 hour.
Melt the chocolate coating disks in a glass bowl of the microwave, stirring every 5-10 seconds until smooth. At this point you can add a bit of food coloring if you are using white chocolate.
Remove the balls from the freezer. Using one toothpick, pick up the balls one at a time and dip in the chocolate. Use a second toothpick to slide the ball off the first toothpick onto the wax paper lined baking tray.
NOTE: We found that an old Easter egg dipper works as well. If the balls fall off the toothpick into the chocolate, they are not firm enough to work with and place them back in the freezer for additional time
Once you have covered all the balls in chocolate coating place a candy in the middle of the "eye". Place the tray in the refrigerator until the chocolate coating is set. At this point you can drizzle the red tinted white chocolate over the eyeballs! Have fun!
Paula's note: Stop the recipe after you dip in White Chocolate for regular cake balls…decorate how you like