German Chocolate Cake with Coconut Custard Filling
By
Paula Deen
JUMP TO RECIPE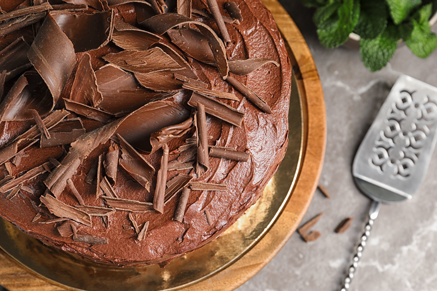 Difficulty: Medium
Prep time: 30 minutes
Cook time: 30 minutes
Servings: 30
Ingredients
1 cup plus 6 tablespoons and 1/4 cup, divided and softened butter
2 cups plus 1 1/2 cups granulated sugar
4 large eggs
1 cup sour cream
1 teaspoon vanilla extract
2 cups all purpose flour
3 tablespoons unsweetened cocoa powder
1/2 teaspoon baking soda
1/2 teaspoon salt
1/2 cup whole buttermilk
1 (4 oz) bar melted and cooled, plus 2 more bars, chopped sweet baking chocolate
1 1/2 cups plus 1 cup, boiling heavy whipping cream
5 egg yolks
2 cups sweetened flaked coconut
1 1/2 cups toasted and chopped pecans
1 1/2 tablespoons light corn syrup
for garnish pecan halves
for garnish chocolate curls
Directions
Preheat oven to 350 °F. Spray 3 (9-inch) cake pans with nonstick cooking spray with flour.
In a large bowl, beat 1 cup butter and 2 cups sugar at medium-high speed with an electric mixer until fluffy. Add eggs, one at a time, beating well after each addition. Add sour cream and vanilla, beating until combined.
In a medium bowl, combine flour, cocoa, baking soda and salt. Gradually add to butter mixture, alternately with buttermilk, beginning and ending with flour mixture. Add 1 bar melted chocolate, beating until combined.
Spoon batter evenly into prepared pans, and bake for 18 to 22 minutes, or until a wooden pick inserted in center comes out clean. Let cool in pans for 10 minutes. Remove from pans and cool completely on wire racks.
Spread 2/3's of Coconut-Pecan Filling evenly in between cake layers. Place cake in freezer for at least 1 hour. Spread Chocolate Ganache Frosting evenly over top and sides of cake. Spread remaining one-third Coconut-Pecan Filling evenly over top of cake. Arrange pecan halves around top and bottom of cake, if desired. Garnish with chocolate curls, if desired. Store cake in refrigerator.
Creamy Coconut Pecan Filling:
In a medium saucepan, combine 1 1/2 cups cream, 1 1/2 cups sugar and egg yolks. Cook over medium-low heat, until sugar is dissolved and mixture coats the back of a spoon, about 10 minutes. Remove from heat, and add 6 tablespoons butter, coconut and pecans, stirring until butter is melted. Let stand until mixture reaches room temperature.
Yields: 5 cups
Chocolate Ganache Frosting:
In a medium bowl, combine 2 bars of chopped chocolate, 1/4 cup butter and corn syrup. Pour 1 cup boiling cream over chocolate mixture. Let stand for 1 minute. Stir until chocolate is melted and mixture is smooth. Chill for 30 minutes, stirring occasionally, until frosting is a spreadable consistency.
Yields: 1 1/2 cups