Paula's Volcano Cake
By
Paula Deen
JUMP TO RECIPE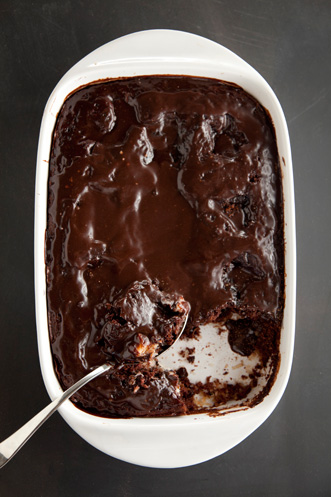 Difficulty: Medium
Prep time: 10 minutes
Cook time: 10 minutes
Servings: 10
Ingredients
1 (8 oz) package softened cream cheese
1 stick room temperature, plus 4 tablespoons butter for the glaze butter
2 cups (4x or 10x) sugar
1 cup sweetened coconut flakes
1 cup pecans
1 (18.25 oz) box prepare by following direction on box German chocolate cake mix
10 or candy of choice bite-sized almond and chocolate covered candy
1/4 cup cocoa powder
1/2 cup milk
1 1/2 cups confectioner's sugar
1/2 teaspoon almond extract
Directions
For the cream mixture:
Beat ingredients (the softened cream cheese, 1 stick butter and sugar) together with an electric mixer. Set aside until ready to use.
Cake:
Preheat oven to 350 °F. Grease a 13 by 9 by 2-inch cake pan.
Line bottom of greased pan with coconut flakes. Sprinkle pecans on top of coconut. Set aside.
Follow directions on back of box to prepare cake. Beat for approximately 2 minutes, using an electric mixer. Fold in bite-sized candy. Pour into cake pan. Evenly space dollops of cream mixture on top of the cake. When the cake cooks, the cream will sink down to the bottom. This will be your "volcano" of flavor. Place in oven for 40 to 45 minutes. While cake is still hot spread the glaze evenly over the cake.
For the glaze:
In a small saucepan, melt the 4 tablespoons of butter over medium-low heat. Whisk in cocoa powder and add milk until you get a thin consistency. If glaze is too thick, add more milk. While bringing the butter and milk mixture to a boil, whisk in confectioner's sugar and almond extract. Glaze should be thin. Remove from the heat and allow to cool before using.