Chocolate Volcano Cake
By
Paula Deen
JUMP TO RECIPE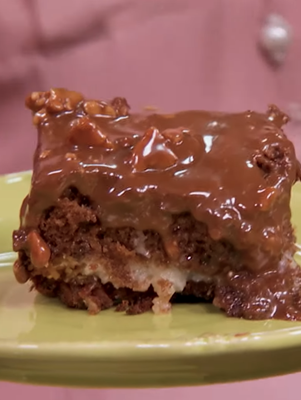 Difficulty: Easy
Prep time: 15 minutes
Cook time: 15 minutes
Servings: 15
Ingredients
1 cup shredded sweetened coconut
1 cup chopped, or pecans walnuts
1 package German chocolate cake mix
10 chopped bite-size coconut candy bars
1 (8 oz) package at room temperature cream cheese
2 sticks at room temperature, divided butter
4 cups divided confectioner's sugar
1/4 cup more if a thinner consistency is desired milk
2 tablespoons unsweetened cocoa powder
1 teaspoon vanilla extract
1 cup chopped pecans
Directions
Preheat the oven to 350 °F. Spray a 13-by-9-by-2-inch pan with nonstick spray.
Mix the coconut and nuts and spread them evenly in the pan. Prepare the cake mix as directed on the box. Stir in the chopped candy bars. Pour the batter over the coconut and nuts. Combine the cream cheese, 1 stick of butter and 2 cups of sugar. Randomly drop tablespoons of this mixture on top of the batter; do not spread them.
Bake until the sides of the cake pull away from the pan, 40 to 50 minutes. Pour the warm Chocolate Pecan Glaze over the cake. Slice and enjoy.
Cook's Note: Paula likes to change the box cake recipe to her liking. You can still follow the directions on the cake box and get a delicious volcano cake. But if you would like to do Paula's version of this cake, add 4 eggs instead of 3 and replaces the water measurement with milk. She also adds a teaspoon of vanilla extract.
Chocolate Pecan Glaze:
In a saucepan over medium-high heat, combine the 1 stick butter, milk, cocoa powder and vanilla extract. Once the butter is melted, remove from the heat. Add 1/2 to 2 cups sugar and stir until smooth. Stir in the pecans.