Garden Full of Goodness Lasagna
By
Paula Deen
JUMP TO RECIPE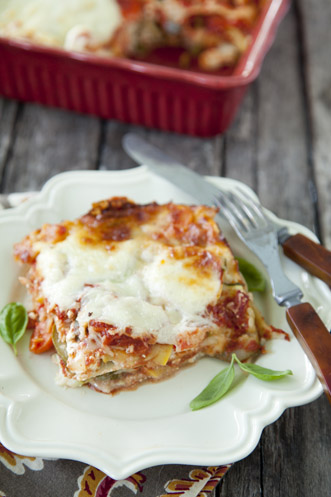 Difficulty: Medium
Prep time: 20 minutes
Cook time: 20 minutes
Servings: 20
Ingredients
2 cups thinly sliced zucchini
2 cups thinly sliced yellow squash
1 cups thinly sliced carrot
1 cups thinly sliced fresh mushrooms
1 medium diced onion
1/2 diced green bell pepper
1/2 diced red bell pepper
1 (14 oz) can crushed tomatoes
1 (8 oz) can tomato sauce
1/2 (6 oz) can tomato paste
1/4 cup sliced fresh basil
2 cloves minced garlic
1 teaspoon salt
1/2 teaspoon black pepper
1 (8 oz) package softened cream cheese
3/4 cup small curd cottage cheese
1 large lightly beaten egg
8 oven ready lasagna noodles
12 slices thinly sliced provolone cheese
2 cups shredded mozzarella
Directions
Combine zucchini, squash, carrot, mushrooms, onion and peppers with water to cover. Bring to a boil over medium-high heat; reduce heat, and simmer 10 minutes or until vegetables are tender. Drain well, and return to pot.
Preheat oven to 350 °F.
Combine crushed tomatoes, tomato sauce, tomato paste, basil, garlic, salt, and pepper in a medium saucepan. Bring to a boil, reduce heat, and simmer 20 minutes.
In a medium bowl, combine cream cheese, cottage cheese, and eggs. Stir together. Spread 1/3 of the sauce evenly over bottom of a 13 by 9 by 2-inch baking dish. Place 4 uncooked lasagna noodles on top of sauce. Do not overlap noodles. Spread 1/2 of cream cheese mixture over noodles. Cover cheese mixture with 1/2 the vegetable mixture, more sauce, and top evenly with 6 slices provolone cheese and 1 1/2 cups mozzarella cheese. Repeat layers with 4 noodles, rest of the cream cheese mixture, vegetables, sauce, and remaining cheeses. Place in oven for 35 minutes or until lasagna is hot and bubbling
Let lasagna stand for 10 minutes before serving.