Funnel Cakes
By
Paula Deen
JUMP TO RECIPE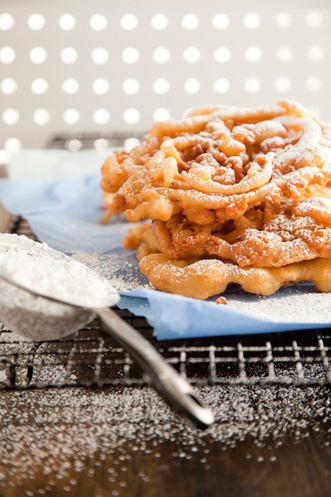 Difficulty: Medium
Prep time: 10 minutes
Cook time: 2-3 minutes
Servings: 4 to 6
Ingredients
1 tablespoon sugar
1 teaspoon baking soda
1 teaspoon salt
2 cups all purpose flour
1 teaspoon vanilla
2 eggs, beaten
1 cup milk, plus more if needed
½ stick (4 tablespoons) butter, melted
powdered sugar, for topping
peanut oil, for frying
Directions
Combine milk, eggs, and vanilla in a large bowl. In a separate bowl, combine flour, salt, baking soda, and sugar and gradually add to wet ingredients. Beat with a mixer until a smooth batter forms. Fold in melted butter. Butter should be the consistency of pancake batter.
Heat ½" to 1″ of peanut oil in a skillet.
Pour batter into a funnel or squeeze bottle while using your index finger to stop the flow of the batter. Bring the funnel over the hot oil and release your finger to start a stream of batter while moving the funnel in a circular motion to create spiral-like shapes. Fry for 2 to 3 minutes until golden brown and slightly puffed. Sprinkle with powdered sugar.