Frozen Raspberry Yogurt Pops
By
Paula Deen
JUMP TO RECIPE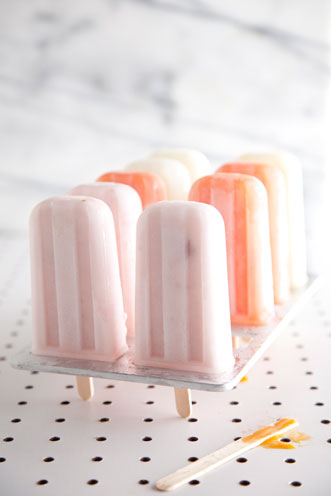 Difficulty: Easy
Ingredients
2/3 cup turbinado sugar
2/3 cup water
4 cups fresh raspberries
1 cup nonfat plain yogurt
2 tablespoons lime juice
Directions
In a small saucepan, make a simple syrup by stirring together the water and sugar and cooking over medium heat until the sugar is dissolved. Remove from heat and allow to cool in the refrigerator until cold (about 1 hour).
In a food processor, add raspberries and puree until smooth. Pour raspberry puree into a fine mesh strainer placed over a large bowl with a pour spout. Using the back of a spoon, press the puree through the strainer into the bowl, leaving the seeds in the strainer. Discard seeds.
Add the yogurt, lime juice and cold simple syrup to the raspberry puree and whisk to combine.
Divide mixture among a 10 capacity ice pop mold. Top with the mold cover and insert ice pop sticks.
Freeze overnight or until pops are firm.
For easy removal, dip the bottom of the ice mold in hot water for a few seconds to loosen the pops. Remove pops from mold and serve.
No ice pop molds? Use small paper cups. Line paper cups on a small baking sheet and fill with mixture. Cover with film wrap and place in the freezer. When pops are partially frozen, insert one ice pop stick into the center of each cup. Return to freezer until firm.