Frozen Chocolate Bananas With Coconut
By
Paula Deen
JUMP TO RECIPE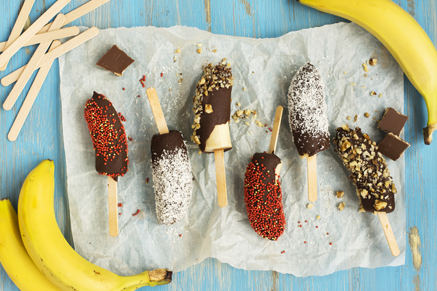 Difficulty: Easy
Ingredients
2 cups semisweet chocolate chips
1 tablespoon vegetable oil
2 cups sweetened coconut flakes
3 large cut into large bite-size pieces bananas
Directions
Place the chocolate chips into a double boiler. Stir constantly, and when the chocolate is melted, stir in the vegetable oil.
Place the coconut in a separate shallow dish and break up any clumps with your fingers. Cut the banana into bite-size pieces. Spear each banana half with a cute wooden toothpick.
Holding on to the stick, dip the banana in the chocolate and turn to coat evenly. Roll the chocolate-covered banana in the dish of coconut and transfer the banana to a plate lined with waxed paper or aluminum foil. Repeat with the rest of the bananas. Place the plate in the freezer for at least 20 minutes and up to 8 hours. Serve cold, on the stick.