Fried Cheese Grits
By
Paula Deen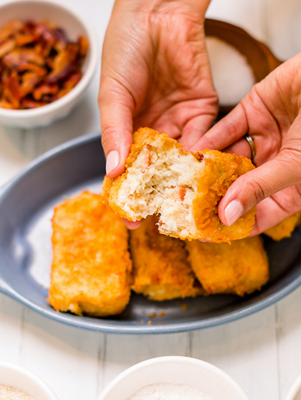 A favorite dish from Paula Deen's Family Kitchen.
Prep time:

prep day before

Cook time: 15 minutes
Servings: 12
Ingredients
4 cups milk
¼ pound unsalted butter
1½ cups quick grits
1 whole eggs
½ cup shredded mozzarella cheese
2 cups shredded white cheddar cheese
½ cup shredded Parmesan cheese
2 teaspoons kosher salt
½ cup bacon bits, cooked
½ cup green onion, finely sliced
½ teaspoon black pepper
8 eggs
self-rising flour, for dredging
peanut oil, for frying
Directions
In a sauce pan, bring the milk to a simmer.
Add grits and butter and stir for one minute. Reduce heat to medium heat and cook for 5-6 minutes then set aside.
Incorporate the rest of the ingredients and pour onto a sheet pan. Store in refrigerator over night.
Take the grits out the refrigerator and cut into 1-inch by 2-inch pieces.
Whip the eggs, and dip the grit pieces in the eggs, then dredge them in the flour. Fry each coated piece in 350˚F oil.