Elvis' Favorite Tea Sandwich
By
Deen Brothers
JUMP TO RECIPE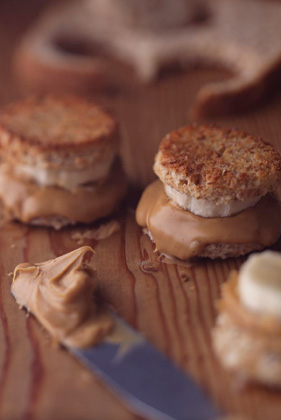 Featured in:
The Deen Bros. Recipes from the Road
Difficulty: Easy
Prep time: 10 minutes
Cook time: 1 minute
Servings: 12 sandwiches to serve 4
Ingredients
8 slices whole wheat bread
1 banana
1/2 cup peanut butter
1 tablespoon honey
1 tablespoon unsalted butter
Directions
Using a 1 1/4-inch round cookie cutter, punch 3 circles out of each slice of bread. Spread 12 of the circles with 1 teaspoon peanut butter each. Place a banana slice on top of each peanut butter circle and mash slightly with a fork. Drizzle each banana slice with some honey. Top with the remaining 12 bread circles.
Preheat broiler. Transfer the sandwiches to a baking sheet. Brush the tops of the sandwiches with melted butter. Broil about 1 minute or until just golden.