Easy Biscuit Doughnuts
By
Deen Brothers
JUMP TO RECIPE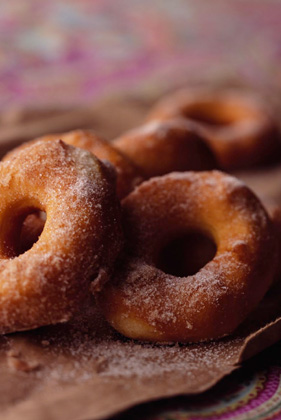 Featured in:
The Deen Bros. Recipes from the Road
Difficulty: Easy
Prep time: 10 minutes
Cook time: 4 minutes
Servings: 10 doughnuts
Ingredients
1/2 cup sugar
1 teaspoon ground cinnamon
Vegetable oil
1 (12-ounce) tube buttermilk biscuit dough
Directions
In a small bowl, combine sugar and cinnamon. Set aside.
Fill a wide, shallow pan with 1 inch of oil. Heat the oil to 370°F.
Meanwhile, arrange the biscuits on a baking sheet. Using a 1-inch-diameter round cookie cutter, cut out the center of each biscuit. (Save the scraps to make bite-size doughnut holes.)
Drop the doughnuts into the hot oil and cook for 1 to 2 minutes or until golden brown, turning doughnuts if necessary. Transfer the doughnuts immediately to a baking sheet lined with paper towels and sprinkle generously with cinnamon sugar. Serve warm.