Drinking Custard, AKA Boiled Custard or Crème Anglaise
By
Damon Lee Fowler
JUMP TO RECIPE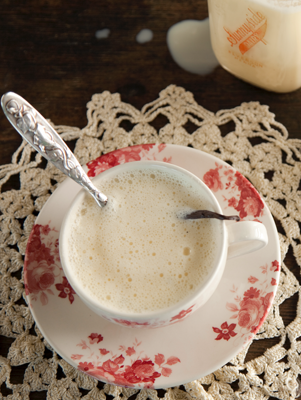 Difficulty: Medium
Prep time: 5 minutes
Cook time: 15 minutes
Servings: 5 cups
Ingredients
3 cups whole milk
1 cup heavy cream
1 whole vanilla bean or 2 teaspoons vanilla extract
8 large egg yolks
¾ cup sugar
Directions
Prepare the bottom of a double boiler with simmering water. Put the milk, cream, and if using, the vanilla bean in the top of a double boiler and bring it to a simmer over direct medium heat. Transfer it to the bottom half with its simmering water.
In a heatproof bowl, beat together the sugar and egg yolks until it is light and smooth and ribbons off the spoon. Slowly beat in a cup of the hot liquid to temper the eggs, then slowly beat the eggs into the hot milk and cream.
Cook, stirring constantly until the custard is thick enough to coat the back of a spoon, about 5 minutes. Take the top pot from the heat and continue stirring until it has cooled slightly, about 4 minutes more. Remove the vanilla bean, if used. Stir in the extract, if using, and if serving cold, stir until it is cooled, then let it cool completely and refrigerate until well-chilled.