Homemade Tootsie Rolls
By
Paula Deen
JUMP TO RECIPE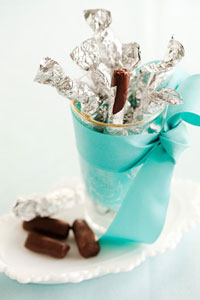 Difficulty: Medium
Prep time: 20 minutes
Cook time: 20 minutes
Servings: 20
Ingredients
or colored foil, for wrapping wax paper
12 oz semisweet chocolate chips
1/2 cup light corn syrup
3/4 teaspoon warm water
1 3/4 teaspoons orange extract
Directions
Line a baking tray (with sides) with plastic wrap and set aside.
In a medium microwave safe bowl, melt chocolate. Stop to stir every 5-10 seconds so chocolate will not burn. Add the remaining ingredients and stir well. Scrap mixture onto the prepared baking sheet and press down with the back side of a spatula to a 1″ thickness. (Paula's Note: It will not completely cover the pan). Cover mixture with another piece of plastic wrap and let it set overnight at room temperature. The mixture will be stiff, but still moldable and flexible the next day.
Peel off the plastic wrap and cut into strips (about 1/2″-3/4″ wide). Form each strip into a log and roll out the logs between your hands or on your work surface until they are about 1/2″ in diameter. Cut into sections as long as you like and set aside for a few minutes to harden up again after you have heated them with your hands. Wrap in waxed paper or colored foil squares.
Paula's Gift Packaging Tip: I love giving gifts in vintage containers I find while junkin'. With my Homemade Tootsie Rolls, I wrapped them in silver foil candy squares and filled a Vintage drinking glass. I finished with a coordinating gross grain ribbon tied on the glass.