Deep-Fried Pickles with Honey-Mustard Dipping Sauce
By
Deen Brothers
JUMP TO RECIPE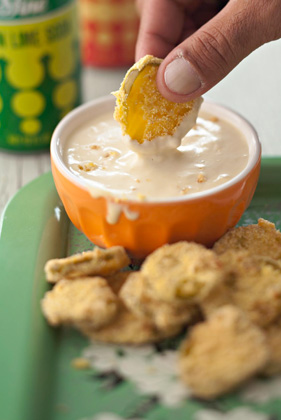 Featured in:
The Deen Bros. Y'all Come Eat
Difficulty: Easy
Prep time: 10 minutes
Cook time: 3 minutes
Servings: 6 to 8
Ingredients
Deep-Fried Pickles
vegetable oil, for frying
1/2 cup all-purpose flour
2 large eggs
1/2 cup cornmeal
salt
freshly ground black pepper
48 slices bread and butter pickles from a 16-ounce jar
Honey-Mustard Dipping Sauce
1/2 cup sour cream
1/4 cup Dijon mustard
1/4 cup mayonnaise
2 tablespoons honey
Directions
Deep-Fried Pickles
For the pickles, in a heavy pot, heat 2 inches of oil to 350F. Put the flour in one bowl, the beaten eggs in a second bowl, and the cornmeal in a third bowl; season the flour and cornmeal with salt and pepper.
Dip the pickles first in the flour, shaking off the excess; dip into the beaten egg, then dredge in the cornmeal to coat. Lay on a baking sheet. When all the pickles are coated, fry them in batches in the hot oil about 30 seconds or until brown. Using a slotted spoon, transfer fried pickles a paper towel-lined plate to drain. Serve pickles hot with honeymustard sauce for dipping.
Honey-Mustard Dipping Sauce
In a small bowl, stir together all the sauce ingredients until smooth. (The dipping sauce can be made ahead and refrigerated until ready to use.)