Crustless Spinach Quiche
By
Paula Deen
JUMP TO RECIPE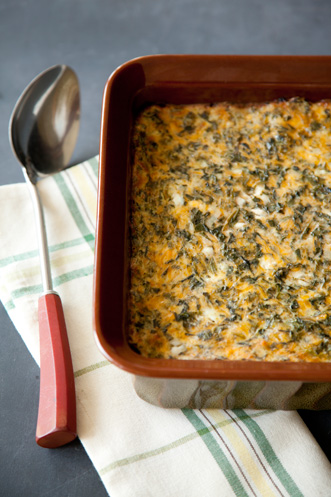 Difficulty: Easy
Prep time: 10 minutes
Cook time: 10 minutes
Servings: 10
Ingredients
1 (10 oz) package frozen chopped spinach
4 eggs
1 cup sour cream
1 cup small curd cottage cheese
1/2 cup grated Parmesan cheese
1/4 cup unbleached all-purpose flour
1 teaspoon salt
1/4 teaspoon freshly ground black pepper
2 cups grated cheddar cheese
Directions
Preheat the oven to 325 °F. Spray an 8 by 8-inch baking dish with cooking spray.
Unwrap the spinach and put it, box and all, on a plate. Microwave and cook on high power for 4 minutes. Allow it to cool and remove it from the box. Squeeze out all of the liquid out of the spinach and put it into a medium bowl.
Combine the eggs, sour cream, cottage cheese, Parmesan, flour, salt and pepper, in a medium bowl. Stir together, or blend in food processor until the mixture is smooth, about 1 minute. Pour the mixture into the bowl with the spinach. Add the cheddar and blend with a spoon until well mixed. Pour the spinach mixture into the baking dish and smooth out the top.
Bake until set, about 45 minutes. Remove the baking dish from the oven. It will be puffed up, but will fall slightly as it cools. Allow it to cool, then, refrigerate. Cut it into squares and serve.