The Deen Bros. Lighter No-Crust Creamed Spinach Quiche
By
Deen Brothers
JUMP TO RECIPE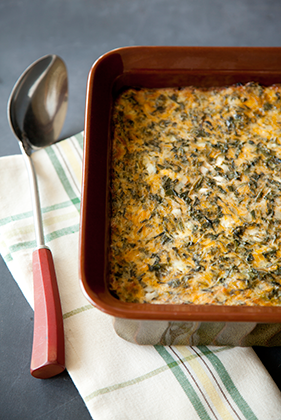 Difficulty: Easy
Prep time: 15 min
Cook time: 40 min
Servings: 8
Ingredients
2 teaspoons olive oil
2 shallots
2 garlic clove s
1 10-ounce package frozen chopped spinach
1 3-ounce package reduced-fat cream cheese Neufchâtel
1 cup reduced fat 1% milk
1/2 cup half-and-half
4 egg whites
2 large eggs
2/3 cup shredded Cheddar cheese
1/4 cup grated Parmesan cheese
1/4 teaspoon salt
Pinch ground red pepper
Directions
Preheat the oven to 375°F. Spray a 9 x 9-inch baking dish with cooking spray.
Heat the oil in a large nonstick skillet over medium-high heat. Add the shallots and garlic and cook, stirring often, until softened, 2 – 3 minutes. Add the spinach and cook, stirring, until the spinach is tender and any liquid is completely evaporated, about 5 minutes. Stir in the cream cheese until blended. Remove from the heat; let cool 5 minutes.
Meanwhile, whisk together the milk, half-and-half, egg whites, eggs, Cheddar, Parmesan, salt, and ground red pepper until blended. Stir in the spinach mixture until well combined. Pour into the baking dish.
Bake until the filling is set and a knife inserted into the center comes out clean, about 40 minutes. Let stand 10 minutes; then cut into 8 squares.