Crunchy Crab Cake Spiders
By
Paula Deen
JUMP TO RECIPE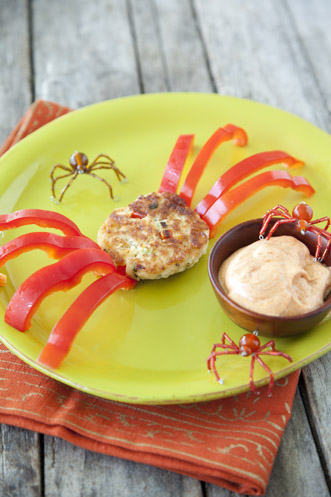 Difficulty: Easy
Prep time: 15 minutes
Cook time: 15 minutes
Servings: 15
Ingredients
1 lb picked free of shells lump crabmeat
1 cup minced plus a few thin strips, for garnish red bell pepper
1/2 cup minced green onion
1/4 cup minced water chestnuts
1 large lightly beaten egg
1 teaspoon fresh lemon juice
1/4 teaspoon wasabi powder
1/4 teaspoon plus more for sauce salt
1/4 teaspoon freshly ground plus more for sauce black pepper
1 cup crushed (or soda crackers) saltine crackers
4 tablespoons butter
1 tablespoon vegetable oil
1 cup plus two tablespoons mayonnaise
1 tablespoon paprika
Directions
In a large bowl, combine the crabmeat, bell pepper, green onions and water chestnuts. Add the egg, 2 tablespoons mayonnaise, lemon juice, wasabi powder, salt and pepper, and stir gently to combine. Gently stir in the crushed crackers. Form the mixture into 12 equal patties.
In a large skillet, melt 2 tablespoons of the butter, and 1 tablespoon vegetable oil over medium heat. Add 6 crab cakes, and cook until golden brown, about 3 to 4 minutes per side. Repeat the process with the remaining 2 tablespoons butter and remaining 6 crab cakes. Arrange them on a serving platter. Garnish with red bell pepper strips to make spider legs, if desired. Serve immediately with the Mayonnaise Sauce.
Sauce:
Combine 2 cups mayonnaise, paprika and a pinch salt and freshly ground black pepper in a small serving bowl.