Crab Quiche
By
Paula Deen
JUMP TO RECIPE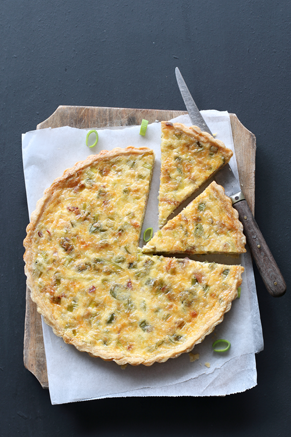 Difficulty: Easy
Ingredients
1 pinch mace
1 (9 inch) par-baked and pricked with a fork pie crust
4 oz shredded Gruyere cheese
1 lb drained fresh white crabmeat
2 minced scallions
1 cup heavy cream
1/2 teaspoon grated lemon zest
1/2 teaspoon dry mustard
1/2 teaspoon seafood seasoning
1/2 teaspoon salt
3 beaten eggs
Directions
Preheat the oven to 350 degrees F.
Sprinkle the cheese evenly over the bottom of the pie crust. Top with the crab meat and sprinkle with the scallions. Whisk together the heavy cream, lemon zest, mustard, seafood seasoning, salt, mace and eggs in a bowl. Pour the egg mixture into the pie crust.
Bake until the custard sets, about 40 minutes. Let stand for 15 minutes before slicing.