Cream Cheese Pound Cake With Grilled Plums
By
Paula Deen
JUMP TO RECIPE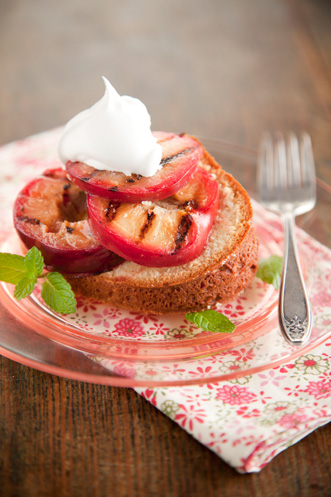 Difficulty: Easy
Prep time: 10 minutes
Cook time: 10 minutes
Servings: 10
Ingredients
1 1/2 cup softened, plus 1/2 cup melted butter butter
1 (8 oz) package softened cream cheese
3 cups sugar
1/2 teaspoon almond extract
3 cups all purpose flour
1/2 teaspoon baking powder
6 large eggs
12 ripe pitted and thickly sliced plums
for serving honey
for garnish fresh mint
Directions
For the cake: Preheat the oven to 325 °F. Spray a 10-inch fluted tube pan or bundt pan with nonstick baking spray with flour.
In a large bowl, beat 1 1/2 cup butter and cream cheese at medium-high speed with a mixer until creamy. Add the sugar, beating until fluffy. Beat in the extract.
In a medium bowl, combine the flour and baking powder. Add 1/3 of the flour mixture to the butter mixture, beating until just combined. Add 2 eggs, beating until just combined. Repeat the procedure twice with the remaining flour mixture and eggs. Spoon the batter into the prepared pan.
Bake until a wooden pick inserted in the center comes out clean, 1 hour and 10 minutes. Cover the cake with aluminum foil to prevent excess browning during last 10 minutes of baking, if necessary. Let cool in the pan for 10 minutes. Remove from the pan, and cool completely on a wire rack.
For the plums: Spray the grill rack with nonstick, nonflammable cooking spray. Preheat the grill to medium heat.
Brush the plum slices evenly with the 1/2 cup melted butter. Grill the plums until just softened, 2 minutes per side.
Slice the cake and serve with grilled plums. Drizzle with honey and garnish with mint, if desired.