Orange Brownies
By
Paula Deen
JUMP TO RECIPE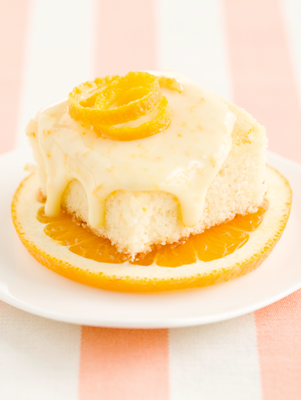 Difficulty: Easy
Prep time: 15 minutes
Cook time: 30 minutes
Servings: 20-24 brownies
Ingredients
Brownies
1 1/2 cups all purpose flour
2 cups granulated sugar
1 teaspoon salt
1 cup (2 sticks) softened butter
4 eggs
2 teaspoons pure orange extract
1 teaspoon grated orange zest
Orange Cream Cheese Frosting
1 (8-ounce) package softened cream cheese
4 tablespoons softened butter
1 (1-pound) box confectioners' sugar
2 tablespoons orange zest
2 tablespoons orange juice
Directions
Orange Brownies
Preheat oven to 350 degrees F. Grease a 13 by 9 by 2-inch pan.
Stir together flour, granulated sugar, and salt in a bowl. Add butter, eggs, orange extract, and orange zest. Using a handheld electric mixer, beat until well-blended. Pour batter into greased pan and bake for 30 minutes, or until light golden brown and set. Remove from oven, allow to cool, and then pierce entire cake with a fork.
Orange Cream Cheese Frosting
In a large mixing bowl, whip the butter and cream cheese together with a hand-held electric mixer. Gradually beat in the confectioners' sugar until it is all combined and smooth. Beat in the orange zest and juice. Spread the Orange Cream Cheese Frosting over completely cooled brownies. Cut into squares.