Couscous Salad with Feta, Tomato, and Olives
By
Deen Brothers
JUMP TO RECIPE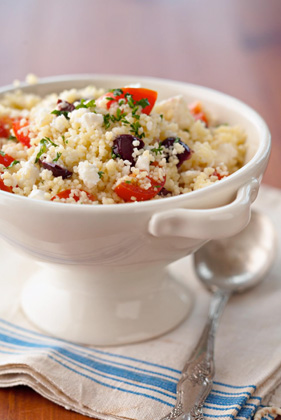 Featured in:
The Deen Bros. Y'all Come Eat
Difficulty: Easy
Servings: 4
Ingredients
2 tablespoons extra virgin olive oil
2 tablespoons freshly squeezed lemon juice
1/4 teaspoon salt
Freshly ground black pepper
1 1/2 cups water
1 teaspoon extra virgin olive oil
1 cup uncooked couscous
1 cup cherry tomatoes
5 tablespoons sliced pitted kalamata olives
5 tablespoons chopped fresh parsley
4 ounces feta cheese
Directions
For the dressing, in a small bowl, whisk together the 2 tablespoons oil, the lemon juice, salt, and pepper to taste; set aside.
In a medium saucepan, bring the water and the 1 teaspoon oil to a boil. Stir in the couscous; remove from heat, cover, and let stand for 3 minutes. Uncover and fluff with a fork. Pour dressing over the warm couscous and toss to combine. Add the remaining ingredients and toss gently to combine. Taste and adjust the seasoning if desired. Serve hot or at room temperature.