Corrie's Granola Waffles with Buttered Pecan Syrup
By
Paula Deen
JUMP TO RECIPE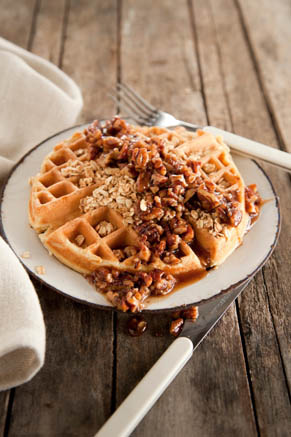 Difficulty: Easy
Prep time: 10 minutes
Cook time: 10 minutes
Servings: 10
Ingredients
2 tablespoons plus 4 tablespoons melted unsalted butter
1 cup chopped pecans
1 cup maple syrup
1 teaspoon divided salt
2 cups all purpose flour
3 tablespoons sugar
1 teaspoon baking powder
1/2 teaspoon baking soda
3 eggs
2 cups buttermilk
1 cup your favorite granola
Directions
To make the syrup, melt the 2 tablespoons butter in a large skillet over medium heat. Add the pecans and cook until fragrant, about 3 minutes. Add the maple syrup and 1/4 teaspoon salt and cook, stirring constantly for 2 to 3 minutes, until thickened.
To make waffles, heat a waffle iron. In a large bowl, whisk together the flour, sugar, baking powder, 3/4 teaspoon salt and baking soda. In a medium bowl, whisk together the eggs, buttermilk and 4 tablespoons melted butter. Pour the wet mixture into the dry mixture and fold to combine.
Cook the waffles according to the directions for your waffle iron. Usually it will take 4 to 6 minutes for the waffles to turn golden and the waffle iron to stop releasing steam, which indicates that they're done.
Sprinkle the granola over the waffles and serve immediately with the buttered pecan maple syrup.