Cornmeal Waffles With Spicy Chili
By
Paula Deen
JUMP TO RECIPE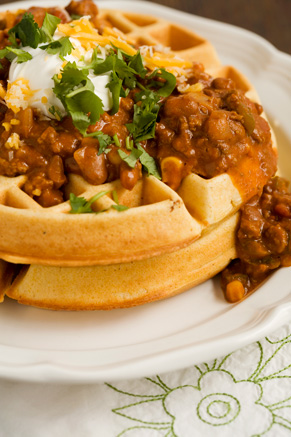 Difficulty: Medium
Prep time: 10 minutes
Cook time: 10 minutes
Servings: 10
Ingredients
1 3/4 cups all purpose flour
1 1/4 cups yellow cornmeal
1 tablespoon baking powder
1 teaspoon sugar
1 teaspoon plus 1 teaspoon for chili salt
2 cups milk
3 tablespoons vegetable oil
2 large eggs
1 lb lean ground chuck
1 chopped onion
1 chopped green bell pepper
2 cloves minced garlic
2 tablespoons chili powder
1 tablespoon ground cumin
1 tablespoon fresh ground black pepper
2 (15 oz) cans ranch-style beans
1 (15 oz) can tomato sauce
1 (15 oz) can drained niblet corn
1 (10 oz) can diced tomatoes and green chiles
shredded, for garnish cheddar cheese
for garnish sour cream
for garnish fresh cilantro
Directions
Preheat waffle iron according to manufacturer's instructions.
In a large bowl, combine flour, cornmeal, baking powder, sugar and salt. Add milk, oil, and eggs; stirring until smooth. Pour batter onto hot waffle iron and bake in batches. Set aside and keep warm.
Serve with Spicy Chili. Garnish with shredded Cheddar, sour cream and chopped fresh cilantro.
Spicy Chili:
In a large Dutch oven over medium-high heat, brown ground chuck, until beef is crumbly. Stir in onion, bell pepper, garlic, chili powder, cumin, salt and pepper.
Stir in beans, tomato sauce, corn, diced tomatoes and green chiles. Reduce heat and simmer 30 minutes uncovered, stirring occasionally.