Cornflake Cookies
By
Phillip Fryman
JUMP TO RECIPE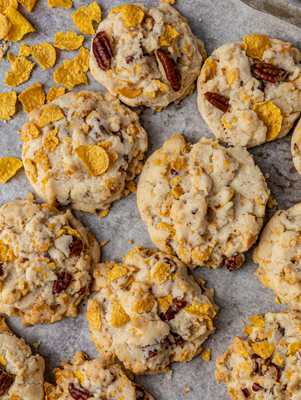 Difficulty: Easy
Prep time: 15 minutes
Cook time: 15 minutes
Servings: 3 dozen
Ingredients
2 cups sugar
1 cup butter
1 cup shortening
3 cups all-purpose flour
2 teaspoons baking soda
2 teaspoons cream of tartar
½ teaspoon salt
4 cups cornflake cereal
1 cup pecans, chopped
2 teaspoons vanilla
Directions
Pre-heat oven to 350˚F.
Cream butter, sugar, and shortening just until well-combined.
Sift together flour, baking soda, cream of tartar: Add to the butter mixture and combine just until mixed.
By hand, mix in cornflakes and pecans very carefully. Don't overmix!
Bake by spoonful on lined baking sheet for ~ 12 minutes until just barely golden around bottoms.
Cool and enjoy!