Coconut Whoopie Pies
By
Paula Deen
JUMP TO RECIPE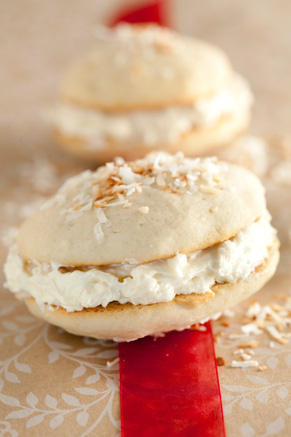 Difficulty: Easy
Prep time: 30 minutes
Cook time: 30 minutes
Servings: 30
Ingredients
2 1/4 cups all purpose flour
2 teaspoons baking powder
1/2 teaspoon salt
1 cup softened, divided unsalted butter
3 tablespoons vegetable shortening
3/4 cup sugar
1 large plus 1 egg white egg
3/4 cup plus 2 tablespoons lite coconut milk
1 teaspoon plus 1/2 teaspoon vanilla extract
1/2 cup marshmallow creme
1 cup sifted confectioner's sugar
3/4 cup divided sweetened flaked coconut
1/4 teaspoon coconut extract
Directions
Position an oven rack in the center of the oven and preheat to 375 °F. Line 2 baking sheets with parchment paper.
Sift together the flour, baking powder and salt onto a sheet of waxed paper.
In a large mixing bowl, beat 1/4 cup butter, shortening and sugar with a mixer on medium speed until fluffy. Add the egg and egg white and beat until incorporated. Add half the flour mixture and half of the 3/4 cup coconut milk and beat just until blended. Add the remaining flour and coconut milk with 1 teaspoon vanilla and beat until blended.
Using a 1/4-cup ice cream scoop, drop the batter into 12 mounds on the lined baking sheets, spacing them 2 inches apart (or make 24 mounds using well-rounded tablespoons). Sprinkle half the mounds with 1/4 cup coconut (or all of the mounds, if you like).
Bake the cookies, one sheet at a time, until they begin to crack and are firm to the touch, about 12 minutes for large cookies and 10 minutes for small ones. Slide the parchment paper with the cookies onto a wire rack to cool completely.
Use a thin metal spatula to lift the cookies off the parchment paper. Spread the flat side of the plain cookies generously with Coconut Fluff Filling. Top with the coconut-topped cookies, pressing lightly to seal them together.
Coconut Fluff Filling:
Beat 3/4 cup butter and marshmallow creme in a large bowl with a mixer at medium-high speed until fluffy, scraping down the sides of the bowl as necessary. Beat in the confectioners' sugar, 1/2 cup coconut, 2 tablespoons coconut milk, 1/2 teaspoon vanilla and coconut extract until smooth.
Yield: about 1 3/4 cups