Cinnamon Scented Pound Cake
By
Paula Deen
JUMP TO RECIPE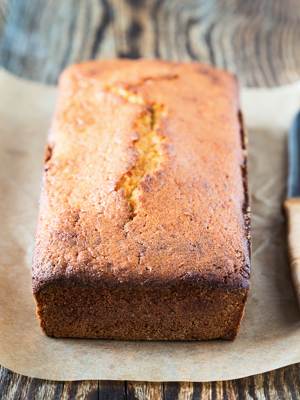 Difficulty: Easy
Prep time: 10 minutes
Cook time: 10 minutes
Servings: 10
Ingredients
2 sticks softened butter
1 1/4 cups firmly packed brown sugar
1/2 cup granulated sugar
3 large eggs
2 cups all purpose flour
1/2 teaspoon baking powder
1/2 teaspoon ground cinnamon
1/4 teaspoon salt
1/2 cup milk
Directions
Preheat the oven to 325 °F. Spray a 9-inch loaf pan with nonstick baking spray. Line the bottom of the pan with parchment paper, and then spray again.
In a large bowl, beat the butter and sugars at medium speed with a mixer until fluffy. Add the eggs, one at a time, beating well after each addition.
In a medium bowl, combine the flour, baking powder, cinnamon and salt. Gradually add to the butter mixture alternately with the milk, beginning and ending with the flour mixture, beating just until combined. Spoon into the prepared pan.
Bake for 45 minutes, then loosely tent with aluminum foil. Bake until a wooden pick inserted in center comes out clean, 25 to 30 minutes longer. Cool in pan for 10 minutes, and then remove from the pan and cool completely on a wire rack.