Christmas Trifle
By
Paula Deen
JUMP TO RECIPE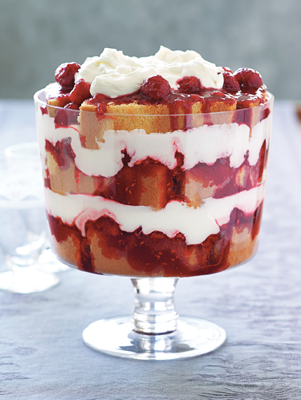 Featured in:
Paula Deen Cuts the Fat
Difficulty: Easy
Prep time: 60 minutes
Cook time: 5 minutes
Servings: 12
Ingredients
1 (16-ounce) box sugar-free yellow cake mix
2 cups sugar-free raspberry preserves
2 tablespoons water
2 pints fresh raspberries
2 cups heavy cream
2 tablespoons confectioner's sugar
fresh mint, for garnish
Directions
Preheat the oven according to the cake mix package directions. Grease a 13 by 9-inch baking dish with cooking spray.
Prepare the cake according to the package directions and pour the batter into the prepared baking dish. Bake according to the package directions.
While the cake is baking, add the preserves and water to a small saucepan. Bring to a simmer. Add 1 pint of the raspberries and carefully stir to combine. Cook for 2 to 3 minutes and remove from the heat.
In the bowl of an electric mixer fitted with the whisk attachment, or using a hand-held mixer, whisk together the cream and sugar until soft peaks form, about 3 minutes. Be careful not to over-mix.
Once the cake is cool, cut it into 1-inch-thick slices. Line the bottom of a 3-quart clear bowl or trifle dish with one third of the cake slices. Top with one third of the preserves. Smooth one third of the whipped cream on top with a rubber spatula, reaching the edges of the bowl. Repeat with another layer of cake, preserves, and whipped cream. Layer the last of the cake, preserves, and whipped cream, ending with the whipped cream. Decorate with the remaining 1 pint raspberries and garnish with mint. Serve at room temperature or chilled.