Christmas Shepherd's Pie
By
Paula Deen
JUMP TO RECIPE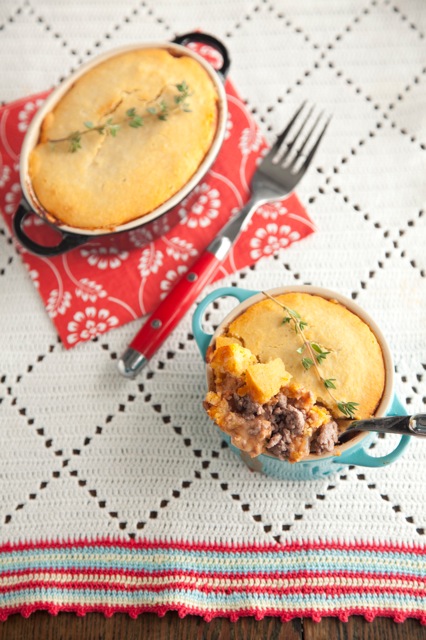 Difficulty: Easy
Prep time: 15 minutes
Cook time: 15 minutes
Servings: 15
Ingredients
1 tablespoon vegetable oil
1 small chopped onion
1 1/2 lbs ground beef
1 (16oz) can tomato sauce
1 1/2 cups cooked peas, diced carrots and corn mixed vegetables or niblet corn
5 peeled and quartered russet potatoes
1/2 cup milk
1/2 cup butter
1/2 cup sour cream
1 (12oz) box cornbread mix
Directions
In a large skillet over medium-high heat, saute the onion in vegetable oil. When the onion is soft add the ground beef, breaking it apart with a wooden spoon and brown. Stir in tomato sauce and mixed vegetables. Season with salt and pepper.
In a pot of boiling, salted water, cook the potatoes about 20 minutes or until fork tender. Drain well and return to the pot. Whip the potatoes with an electric mixer until moderately smooth. Add milk, butter and sour cream and mix well. Season with salt and pepper. Adjust consistency with more milk, if desired.
Follow directions on box to make cornbread batter.
Preheat oven to 350 °F.
Lightly grease 6 (8-ounce) ramekins with nonstick cooking spray.
Spoon the mashed potatoes into the bottoms of each prepared ramekin, spreading them evenly with a rubber spatula. Then add the meat filling, spreading that evenly over the mashed potatoes. Pour the cornbread batter evenly over the meat layer in each ramekin.
Bake for about 30 minutes until the cornbread is cooked through and golden on top.