Christmas Coconut Cake
By
Paula Deen
JUMP TO RECIPE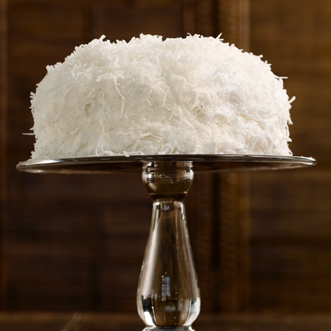 Difficulty: Easy
Ingredients
box white cake mix
1/3 cup water
1/8 teaspoon Salt
1/4 teaspoon cream of tartar ,or 1 tablespoon white corn syrup
1 1/2 cups granulated sugar
2 egg whites
1 1/2 teaspoon vanilla extract
flaked coconut
3/4 cup sugar
1 cup Sour cream
4 tablespoons milk
1/2 cup flaked sweetened coconut
Directions
Prepare box cake according to package directions.
While cake is baking, prepare filling. Stir together sugar, sour cream, milk and coconut in a bowl until well blended. Remove cake layers from oven and allow cake to remain in pan as you prepare to stack and fill. Remove first layer and invert onto cake plate. Using the wrong end of a wooden spoon, poke holes approximately 1 inch apart until entire cake has been poked. Spread one third of filling mixture on cake layer. Top with second layer, repeat process. Top with last layer and repeat process again. (As I stack layers together, I stick them with toothpicks to prevent cake from shifting.) You can place the cake in the refrigerator for 3 days to allow it to absorb the filling mixture.
Prepare 7 minute frosting.
Place sugar, cream of tartar or corn syrup, salt, water and egg whites into a mixing bowl and beat for 1 minute with a handheld electric mixer.
Using the double boiler method, place the bowl over the top of rapidly boiling water, making sure that boiling water does not touch the bottom of the top bowl. (If this happens, it could cause your frosting to become grainy.) Beat constantly on high speed with electric mixer for 7 minutes. Remove the bowl from the boiler and gently stir in vanilla with a spatula.
Frost top and sides of cake. Sprinkle top and sides of cake with additional coconut.
Garnish with fresh holly and berries if you like.