Chocolate Trifle
By
Paula Deen
JUMP TO RECIPE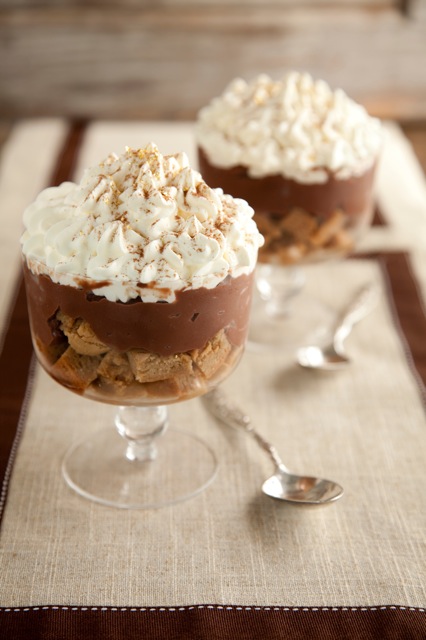 Difficulty: Easy
Prep time: 10 minutes
Cook time: 10 minutes
Servings: 10
Ingredients
1/4 cup sherry
2 (3.4 oz) packages cook-and-serve chocolate pudding mix
1 tablespoon vanilla extract
2 cups self rising flour
1 lb light brown sugar
1 stick butter
3 eggs
2 cups heavy cream
1/2 cup sugar
sprig for garnish fresh mint
Directions
Preheat oven to 375 °F.
Grease and flour a 13 by 9 by 2-inch pan. In a bowl, beat the eggs and butter together; add the brown sugar, then gradually add the flour and mix well. Stir in the vanilla. Spread the batter in the prepared pan and bake for 25 to 30 minutes. Cool and cut into squares.
Prepare the pudding according to the package directions. Let cool slightly. Crumble the blondies into chunks, put them back into the glass dish, and sprinkle with sherry. Spoon the pudding over the blondies. Beat the cream with the sugar just until stiff peaks form. Spoon the whipped cream onto the completely cooled trifle. Refrigerate until serving time.
Add mint to garnish.