Chocolate Espresso Cupcakes
By
Paula Deen
JUMP TO RECIPE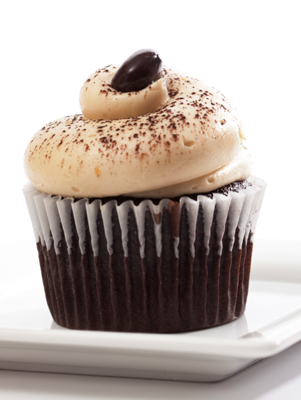 Difficulty: Easy
Prep time: 20-25 minutes
Cook time: 30 minutes
Servings: 2 dozen
Ingredients
2 cups softened and divided butter
3/4 cup unsweetened cocoa powder
1 (4 oz) chopped bittersweet chocolate baking bar
2 teaspoons plus 2 more teaspoons instant espresso powder
1 1/2 cups granulated sugar
4 large eggs
1 3/4 cups all purpose flour
1 teaspoon salt
1 teaspoon baking powder
3/4 teaspoon baking soda
1 cup sour cream
5 tablespoons heavy whipping cream
5 cups confectioner's sugar
chocolate covered espresso beans, for garnish (optional)
Directions
Preheat oven to 350 °F. Line 24 muffin cups with paper liners.
In a medium saucepan, combine 1 cup butter, cocoa powder, chocolate and 2 teaspoons espresso powder. Cook over low heat, stirring constantly, until chocolate melts and mixture is smooth. Let cool for 20 minutes.
In a large bowl, beat sugar and eggs at medium-high spend with a mixer until fluffy.
In a medium bowl, combine flour, salt, baking powder and baking soda. Gradually add to sugar mixture, beating until combined. Add chocolate mixture, stirring until smooth. Stir in sour cream.
Spoon batter into prepared muffin cups, and bake for 12 to 14 minutes or until a wooden pick inserted in center comes out clean. Let cool in pans for 10 minutes. Remove from pans, and cool completely on wire racks. Pipe or spread Creamy Espresso Frosting over each cupcake. Top with chocolate covered espresso beans.
Creamy Espresso Frosting:
In a large bowl, combine cream and remaining 2 teaspoons espresso powder, stirring until espresso powder dissolves. Add 1 cup butter, and beat at medium speed with a mixer until creamy. Gradually add confectioners'; sugar, beating until smooth.