Espresso Brownies
By
Deen Brothers
JUMP TO RECIPE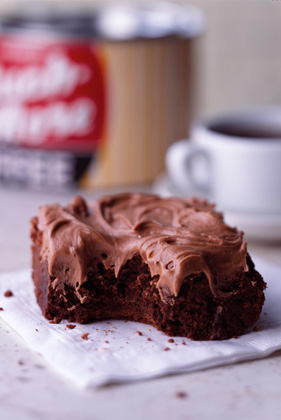 Difficulty: Easy
Prep time: 20 minutes
Cook time: 45 minutes
Servings: 16
Ingredients
Espresso Brownies
12 ounces semisweet chocolate chips
2 ounces bittersweet chocolate
1/4 cup unsalted butter
1 1/2 cups all-purpose flour
3 tablespoons unsweetened cocoa powder
1 teaspoon baking powder
1/4 teaspoon salt
2 tablespoons instant espresso powder
1 1/4 cups granulated sugar
3 eggs
2 teaspoons vanilla
Frosting
6 tablespoons unsalted butter
1 pound confectioners' powdered sugar sifted
3 tablespoons unsweetened cocoa powder
3 tablespoons coffee-flavored liqueur
1 teaspoon instant espresso powder dissolved in 1 tablespoon boiling water
2 teaspoons milk
Directions
Espresso Brownies
Preheat oven to 350°F. Grease a 9-inch square baking pan; set aside.
In a double boiler or a microwave set on low power, melt the chocolates and 1/4 cup butter, stirring frequently; set aside. In a large bowl, sift together the flour, 3 tablespoons cocoa, the baking powder, salt, and 2 tablespoons espresso powder. In the bowl of an electric mixer, beat granulated sugar, eggs, and vanilla on medium-high speed for 2 to 3 minutes or until light colored. Add the melted chocolate mixture; beat until combined. Gradually add the fl our mixture; mix until blended.
Pour the batter into the prepared pan. Bake for 35 to 40 minutes or until a toothpick inserted in the center comes out mostly clean (these brownies should be fudgy in the center). Cool completely in pan on a wire rack.
Use a spatula to spread the frosting over the brownies. Cut the brownies into squares.
Frosting
In the bowl of an electric mixer, cream together the 6 tablespoons butter and the confectioners' sugar. Add the 3 tablespoons cocoa, the liqueur, espresso, and milk; beat until smooth.