Chocolate Cream Pie
By
Paula Deen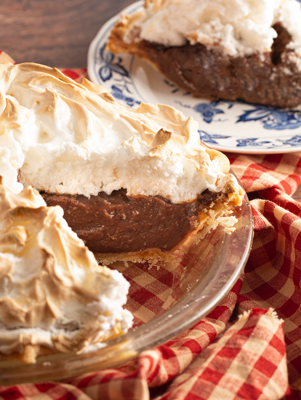 Prep time:

20 minutes

Cook time: 15-20 minutes
Servings: 6 to 8
Ingredients
Filling
1 cup sugar
3 tablespoons cocoa powder
4 tablespoons all-purpose flour
Pinch of salt
3 egg yolks, beaten
2 cups milk
1 tablespoon butter
1 teaspoon vanilla extract
1 (9-inch) pre-baked pie crust
Meringue
3 egg whites
¼ teaspoon cream of tartar
4 tablespoons sugar
Directions
Filling
In a saucepan, stir together the sugar, cocoa, flour, and salt. Slowly stir in the beaten yolks and the milk. Cook over low heat, and stir in the butter and vanilla.
Pour the filling into a bowl to cool. Pat waxed paper onto the surface of the filling to prevent a crust from forming.
When cool, pour the filling into the pie crust.
Meringue
Preheat the oven to 350˚F.
Beat the egg whites with the cream of tartar until they form soft peaks. Add 1 tablespoon of sugar at a time, beating constantly, until the whites form stiff peaks
Spoon the meringue over the pie filling, spreading it out to touch the crust all around.
Bake until brown, 10 to 12 minutes.