Chocolate Cranberry Cupcakes
By
Stefani Pollack
JUMP TO RECIPE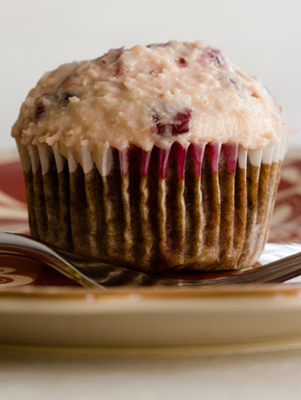 Difficulty: Medium
Prep time: 30 minutes
Cook time: 30 minutes
Servings: 12
Ingredients
Cranberry Syrup
10 oz fresh of frozen cranberries
½ cup orange juice
1 cup sugar
Chocolate Cranberry Cupcakes
6 eggs, separated
½ cup sugar
½ cup cocoa powder
¼ cup water
½ teaspoon vanilla
1 cup cake flour
½ teaspoon cream of tartar
cranberry syrup, from above
Frosting
8 ounces cream cheese
¼ cup sugar
2 eggs
½ of the cranberries reserved from the cranberry syrup (If you want to use all of the cranberries, double the frosting recipe and have leftover cheesecake to snack on)
Directions
Cranberry Syrup
Combine all ingredients in a medium-sized saucepan. Bring to a boil and then reduce heat to medium-low. Simmer for twenty minutes.
Use a sieve to strain out the berries. Reserve both the syrup and berries.
Chocolate Cranberry Cupcakes
Preheat oven to 325 F.
In a medium-sized mixing bowl, beat egg yolks thoroughly. Gradually mix in sugar and cocoa powder. Mix in water and vanilla. Slowly mix in flour until just combined.
In another medium-sized bowl, beat egg whites until frothy. Add cream of tartar to the egg whites and beat until soft peaks form. Gently fold the egg whites into the egg yolk mixture.
Evenly divide the batter between 12 cupcake liners, filling them almost to the top. Bake for 20 minutes or until a toothpick comes out dry.
Using a small paring knife, remove a cone shaped piece from the center of the cupcake. Using a spoon or a turkey baster, fill the hole with cranberry syrup. Replace the removed cupcake piece, cutting it to size if necessary.  It will be covered with frosting so it doesn't have to look pretty.
Optionally, drizzle any leftover cranberry syrup on top of the cupcakes.
Frosting
In a medium-sized saucepan, mix cream cheese, sugar, and eggs. Heat on medium-high until the mixture comes to a boil, stirring regularly to smooth the mixture out. Allow to boil for one minute.
Remove from heat and stir in cranberries. Cool to room temperature. Refrigerate for at least three hours, allowing the cheesecake to set.
Spread onto cooled cupcakes.