Chicken Sausage Patties
By
Paula Deen
JUMP TO RECIPE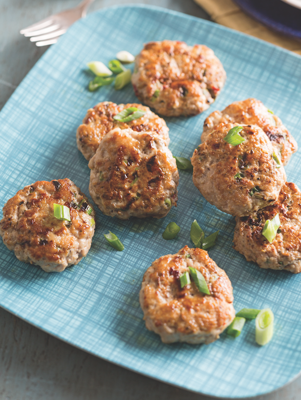 Featured in:
At the Southern Table
Get your copy of At the Southern Table with Paula Deen here.
Difficulty: Easy
Prep time: 10 minutes
Cook time: 10 minutes
Servings: 8
Ingredients
1 pound ground chicken
2 tablespoons chopped green onion
1 teaspoon fennel seeds , crushed
1 teaspoon rubbed sage
1/2 teaspoon kosher salt
1/2 teaspoon ground black pepper
1/2 teaspoon crushed red pepper
Directions
In a large bowl, stir together all ingredients. Divide mixture into 8 portions, and shape each into a patty.
Spray a large nonstick skillet with cooking spray; heat over medium-high heat. Cook patties until browned and cooked through, about 5 minutes per side. Serve immediately.