Chicken, Sausage, and Okra Gumbo
By
Paula Deen
JUMP TO RECIPE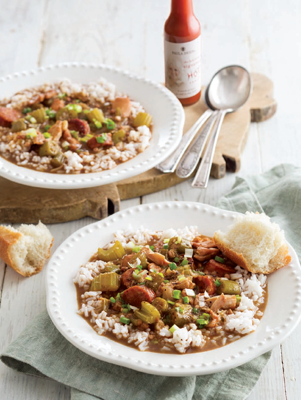 Featured in:
At the Southern Table
Difficulty: Medium
Prep time: 20 minutes
Cook time: 4 hours
Servings: 10 to 12
Ingredients
¾ cup plus 2 tablespoons vegetable oil, divided
2 pounds boneless skinless chicken thighs, cut into bite-size pieces
¾ pound smoked andouille sausage, sliced ¼-inch thick
1 cup all-purpose flour
2 cups chopped onion
1 cup chopped celery
1 cup chopped green bell pepper
2 cloves garlic, minced
2 (32-ounce) cartons chicken broth
1 (15-ounce) package frozen chopped okra
2 bay leaves
1 tablespoon Worcestershire sauce
1 teaspoon hot sauce
¾ teaspoon dried thyme
½ teaspoon ground black pepper
hot cooked rice
chopped green onion, for garnish
Directions
In a large Dutch oven, heat 2 tablespoons oil over medium heat. Cook chicken and sausage in batches, stirring frequently, until browned on all sides, about 10 minutes. Remove from pot, and let drain on paper towels.
Add remaining ¾ cup oil to pot, and heat over medium-low heat. Whisk in fl our until smooth; cook, whisking frequently, until mixture is chocolate colored, 30 to 40 minutes.
Stir in onion, celery, bell pepper, and garlic; cook, stirring occasionally, until vegetables are just tender, about 15 minutes. Gradually stir in broth until well combined. Stir in chicken, sausage, okra, bay leaves, Worcestershire, hot sauce, thyme, and pepper, and bring to a boil. Reduce heat, and simmer, uncovered, stirring occasionally, for 2½ to 3 hours.
Discard bay leaves. Serve with rice. Garnish with green onion, if desired.