Chicken Noodle Casserole
By
Paula Deen
JUMP TO RECIPE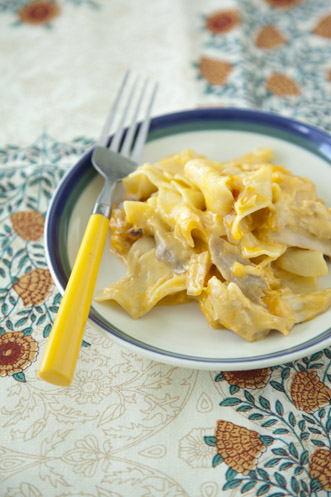 Difficulty: Easy
Prep time: 10 minutes
Cook time: 45 minutes
Servings: 6
Ingredients
2 cups cooked and shredded chicken
4 cups cooked and drained egg noodles (approximately 2 cups uncooked)
½ cup sour cream
1 cup milk
3 cups grated cheddar cheese
2 tablespoons butter
1 tablespoon all purpose flour
1 small onion, finely chopped
1 clove garlic, minced
½ teaspoon red pepper flakes
1 can cream of celery soup
Directions
Preheat oven to 350 °F. Grease 9 x13 inch baking dish.
In a large, tall-sided saucepan, melt the butter over medium heat. Add the onion, sauté until near translucent. Stirring frequently, add garlic and red pepper flakes, cook for two minutes more. Stir in the flour and cook until the flour is absorbed. Slowly add the milk and 2 cups of cheese. Reserve 1 cup of cheese for casserole topping. Once the cheese is melted add salt and pepper to taste. Combine chicken, sour cream, soup, and noodles into cheese mixture. Stir until the noodles are coated with mixture.
Pour mixture into a prepared baking dish. Top with remaining cheese. Bake the casserole for 30 minutes, or until cheese is melted and sauce is bubbling.
Remove from oven and let cool slightly before serving.