Chicken Caesar Pita Pizza
By
Paula Deen
JUMP TO RECIPE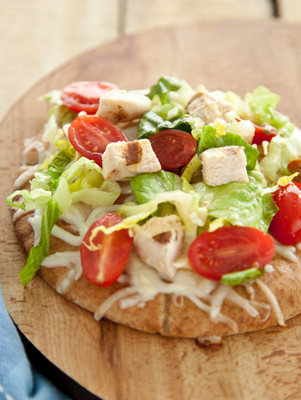 Difficulty: Easy
Prep time: 15 min
Cook time: 11 minutes
Servings: 4
Ingredients
1/2 cup plus 1/4 cup extra virgin olive oil
4 rinsed and patted dry, minced, optional anchovy fillets
2 tablespoons freshly squeezed lemon juice
2 cloves minced garlic
3 dashes Tabasco) hot sauce (recommended
1 teaspoon dijon mustard
3/4 teaspoon salt
1 teaspoon Worcestershire sauce
1 8-ounce package white pita bread
1/4 cup olive oil
3 cups shredded fontina
4 cups shredded romaine lettuce
2 chopped roma tomatoes
leftover chicken
Directions
For the dressing: Put all the ingredients in a bowl and whisk together.
For the pita: Preheat the oven to 400 degrees F. Line baking sheets with aluminum foil.
Place the pitas on the prepared baking sheets. Brush each pita evenly with olive oil. Bake for 5 minutes. Top each evenly with fontina. Bake until the cheese is melted and the pita is lightly browned, 5 to 7 minutes.
In a medium bowl, toss the lettuce with Caesar dressing. Top each pita pizza with desired amount of salad, tomatoes, and chicken.