Chef Jack's Corn Chowder
By
Paula Deen
JUMP TO RECIPE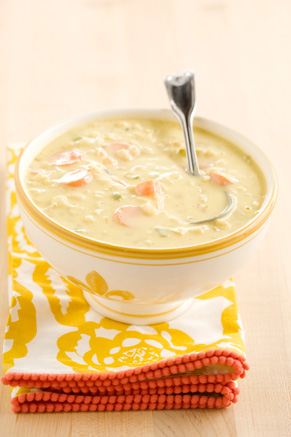 Difficulty: Easy
Prep time: 15 minutes
Cook time: 15 minutes
Servings: 8-10
Ingredients
3 cups chicken stock
2 cups half and half
3 cups fresh or frozen white corn kernels
1/2 cup all purpose flour
1 clove minced garlic
1 small stalk diced celery
1 small finely diced carrot
1 small diced onion
1 cup (2 sticks) butter
pinch freshly ground nutmeg
Directions
Melt 1 stick of butter in a large skillet over medium heat. Add the onion, carrot, celery, and garlic, and saute for 2 minutes. Add the flour and stir to make a roux. Cook until the roux is lightly browned; set aside to cool to room temperature.
Meanwhile, combine the corn and chicken stock in a saucepan, and bring to a boil. Simmer for 10 minutes. Pour the boiling stock with the corn (a little at a time) into the skillet with the roux, whisking briskly so it doesn't lump. Return the skillet to the heat and bring to a boil. The mixture should become very thick.
In a small saucepan, gently heat the half-and-half; stir it into the thick corn mixture. Add the nutmeg and salt and pepper to taste. Just before serving, cut the remaining stick of butter into large chunks. Add it to enrich the soup, stirring until the butter melts.