Potato Soup With Shrimp
By
Paula Deen
JUMP TO RECIPE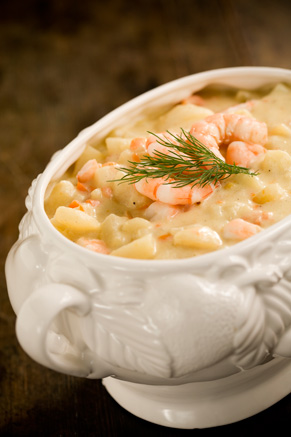 Difficulty: Easy
Prep time: 5 minutes
Cook time: 5 minutes
Servings: 5
Ingredients
1 lb medium shrimp
1/4 teaspoon pepper
1 teaspoon salt
1 cup half and half
4 cups whole, reduced fat (2%), or low fat (1%) milk
2 dissolved in 1/2 cup hot milk chicken bouillon cubes
2 tablespoons all purpose flour
8 medium peeled and cubed russet potatoes
2 medium diced about the same size as the onion carrots
1 small diced onion
1/2 stick butter
grated, for garnish sharp cheddar cheese
1 sprig for garnish (optional) dill
cooked crisp and cut into pieces for garnish bacon
Directions
In a 4-quart saucepan, melt the butter and sauté the onion and carrots until both are slightly tender, about 5 minutes. Whisk in the flour and cook for 1 minute. Add the potatoes, milk and dissolved bouillon cubes. Cook over medium heat for 15 minutes, until the potatoes are very soft and some of them have begun to dissolve into mush. Add the half-and-half, salt and pepper.
In a small saucepan, bring 2 cups lightly salted water to a boil. Add the shrimp all at once and stir well. Watch the shrimp closely; as soon as they all turn pink, about 2-3 minutes, turn off the heat and drain. The shrimp should be slightly undercooked. When they are cool, peel them, and chop roughly into big chunks. Add the shrimp to the soup and stir well. Serve soup sprinkled with bacon bits and grated cheddar cheese and garnished with fresh dill.
Cook's Note: If you don't have access to shrimp, use corn.