Cheese Straws
By
Paula Deen
JUMP TO RECIPE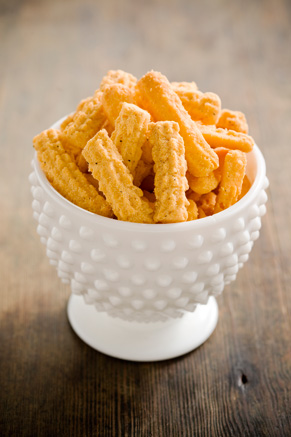 Difficulty: Easy
Prep time: 8 minutes
Cook time: 15 minutes
Servings: 5 dozen
Ingredients
1/4 teaspoon cayenne pepper
2 cups self rising flour
1/4 teaspoon salt
2 cups shredded (1/2 lb) at room temperature sharp cheddar cheese
1 cup (2 sticks) at room temperature butter
Directions
Preheat the oven to 350 °F.
Sift together the flour, cayenne and salt and set aside. Using an electric mixer, cream together the butter and cheese until blended. Add the flour mixture slowly, beating at low speed, then continue to beat for 5 minutes, until very creamy, scraping down the sides of the bowl several times.
Using a cookie press with a star tip, make 3-inch-long cheese straws, leaving at least 1/2 inch between each on an ungreased cookie sheet.
Bake for 10 to 15 minutes or until lightly browned. Remove to racks to cool. Makes approximately 5 dozen cheese straws.