Bobby's Lighter Spicy Cheese Straws
By
Deen Brothers
JUMP TO RECIPE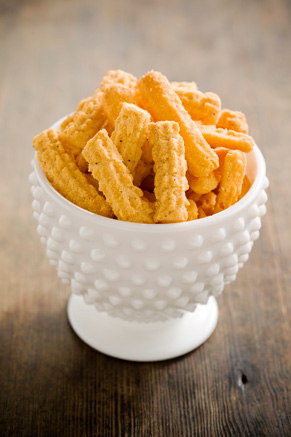 Difficulty: Easy
Prep time: 15 min
Cook time: 15 min
Servings: 14
Ingredients
1/4 cup shredded reduced-fat Monterey Jack cheese
1/4 cup grated Parmesan cheese
1 teaspoon chili powder
1/2 teaspoon salt
1/4 teaspoon ground cumin
1/4 teaspoon cayenne pepper
1/2 17.3-ounce package puff pastry sheets 1 sheet
Directions
Preheat the oven to 400°F. Spray two large baking sheets with nonstick spray; line the baking sheets with parchment paper.
Place the Jack cheese, Parmesan cheese, chili powder, salt, cumin, and cayenne in a food processor; pulse until finely grated.
Unfold the pastry sheet onto a lightly floured surface. With a floured rolling pin, roll the sheet into a 10 x14-inch rectangle. With the long side facing you, sprinkle the cheese mixture evenly over the bottom half of the pastry.
Fold the top half of the pastry over the filling, pressing along the edges with your fingers to seal. Press the top of the pastry lightly with the rolling pin to seal.
Cut the pastry with a floured knife or pizza cutter lengthwise into 28 (1/2-inch-thick) strips. Twist the strips and place on the baking sheets, pressing down on the ends to keep the strips in place.
Bake until the cheese straws are puffed and golden, rotating the baking sheets halfway through cooking time, 12 – 15 minutes. Do not over bake or the cheese will burn. Transfer the cheese straws to a wire rack. Let cool 10 minutes. Serve warm or at room temperature.
Test Kitchen Tip:
You can To get a head start on holiday prep, place unbaked cheese straws onto a baking sheet. Cover and freeze until frozen, about 1 hour, then transfer to a large zip-close food storage bag and freeze for up to 1 month. Place the frozen cheese straws on two parchment-lined baking sheets and bake until the cheese straws are puffed and golden, 12 – 15 minutes.