Bobby's Lighter Spicy Shrimp Stuffed Potatoes
By
Bobby Deen
JUMP TO RECIPE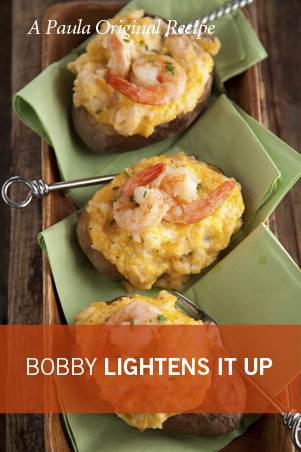 Difficulty: Easy
Prep time: 15 minutes
Cook time: 15 minutes
Servings: 15
Ingredients
2 large baking potatoes
12 medium (31-"40 count) peeled and deveined shrimp
2 teaspoons chili powder
1 teaspoon olive oil
3/4 teaspoon salt
1/2 cup reduced fat sour cream
1 (4 1/2 oz) can chopped mild green chiles
1/2 cup shredded reduced fat cheddar cheese
1/4 cup chopped fresh cilantro
Directions
Preheat the oven to 425 °F. Place the potatoes on the oven rack and bake until fork-tender, 45-"55 minutes.
Meanwhile, toss the shrimp with the chili powder, oil, and 1/4 teaspoon salt. Spray a medium nonstick skillet with nonstick spray and set over medium-high heat. Add the shrimp and cook, turning occasionally, until the shrimp are opaque, 2-€"3 minutes. Transfer to a cutting board. Let cool slightly, then coarsely chop.
Cut the potatoes lengthwise in half. Scoop out the pulp into a medium bowl, leaving a 1/2-inch border attached to the skin. Reserve the shells. Mash the potato pulp, sour cream, chiles and the remaining 1/2 teaspoon salt with a potato masher until coarsely mashed. Stir in the chopped shrimp until well mixed.
Spoon the potato mixture back into the shells. Top each with 2 tablespoons of the cheese. Place on a small foil-lined baking sheet. Bake, until the filling is hot and the cheese is melted, about 10 minutes. Sprinkle with Cilantro.