Charred Corn Salad
By
Deen Brothers
JUMP TO RECIPE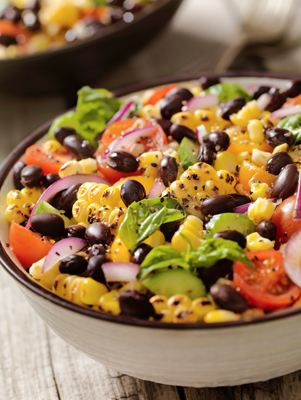 Difficulty: Easy
Prep time: 20 min
Cook time: 15 min
Servings: 4 to 6
Ingredients
2 ears corn on the cob
3 tablespoons extra-virgin olive oil
Juice of 1 lime
Kosher salt and freshly ground black pepper
One 15-ounce can black beans
2 cups grape tomatoes
1 cup cooked and cooled brown rice
1/4 cup finely chopped red onion
3 thinly sliced green onions
1 clove garlic
Directions
Heat a large cast-iron skillet over high heat. Char the ears of corn, rotating on all sides, in the dry skillet until lightly blackened and charred, about 15 minutes. Let cool, and then remove the kernels from the cob with a sharp knife.
In a small bowl, whisk together the olive oil, lime juice and salt and pepper to taste.
Add the black beans, tomatoes, rice, red onions, green onions, garlic and cooled corn to a large bowl. Toss with the lime vinaigrette.