Paper Wrapped Anniversary Salmon
By
Paula Deen
JUMP TO RECIPE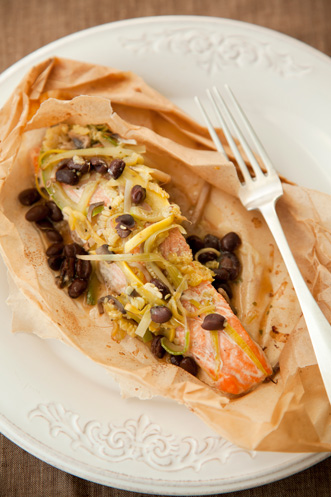 Difficulty: Medium
Prep time: 20 minutes
Cook time: 20 minutes
Servings: 20
Ingredients
4 (6 oz) salmon fillets
1/4 cup 1 1/2-inch long julienne strips zucchini
1/4 cup 1 1/2-inch long julienne strips yellow squash
1/4 cup 1 1/2-inch long julienne strips leeks
1/2 cup 1 1/2-inch long julienne strips mushrooms
1/3 cup low sodium soy sauce
1/2 cup cooked black beans
1 cup good or fresh lemon juice, or apple juice white wine
3 tablespoons grated fresh ginger
1 teaspoon salt
1 teaspoon white pepper
4 oz softened unsalted butter
1 teaspoon minced garlic
1 teaspoon minced scallions
1 tablespoon chopped fresh cilantro
Directions
You'll need: 4 heart-shaped pieces parchment paper
Preheat the oven to 350 °F.
Spray the bottom of the parchment paper with nonstick spray. Season the salmon with salt and pepper and place on the right side of the paper.
Combine the julienne vegetables and toss together. Season with salt, pepper, and 2 tablespoons soy sauce. Place an even amount of black beans and julienne vegetables on top of each fillet. Top with 2 slices of the chilled butter. Drizzle some white wine and soy sauce over and around fish. Sprinkle with ginger.
Starting with the point of the paper heart, roll and crimp the edges until the fillets are totally encased and sealed in the half-heart shape. Place packages on a cookie sheet.
Place pan in the center of the oven without a rack above it. Bake for 15 to 20 minutes, until the parchment has puffed and is light brown. Remove from oven and transfer to oval platters for serving.
Herb Butter:
In a glass bowl, combine salt, pepper, butter, garlic, scallions and cilantro. Mix well. Place butter on a piece of plastic wrap and roll plastic to form into a 1/2 inch thick cylinder. Refrigerate the butter to set, about 20 minutes.