Caramel Apple Cupcakes
By
Paula Deen
JUMP TO RECIPE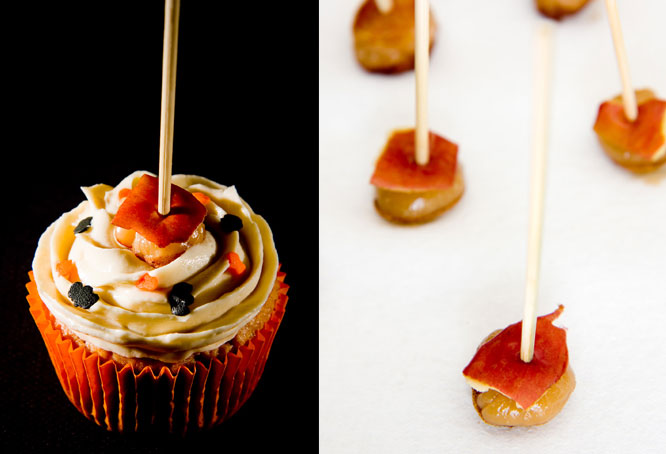 Difficulty: Hard
Prep time: 1 hour
Cook time: 1 hour
Servings: 15
Ingredients
2 cups flour
1 1/2 teaspoons baking powder
1/2 teaspoon baking soda
2 tablespoons plus 1 teaspoon divided cinnamon
1 3/4 cups plus 5 tablespoons cut into pieces, room temperature, divided unsalted butter
3 2/3 cups divided sugar
2 large eggs
2/3 cup plain yogurt
2/3 cup apple butter
1 cup (about 1 medium-sized apple) peeled and finely chopped (save the apple peel to make the candies) apple
3 cups sifted powdered sugar
4 teaspoons vanilla extract
2 tablespoons or heavy whipping cream milk
1 cup heavy whipping cream
1/4 cup light corn syrup
1/4 cup hard apple cider
4 wooden skewers
Directions
For the Cupcakes:
Preheat oven to 350º.
Whisk flour, baking powder, baking soda and 1 teaspoon cinnamon in a bowl.
Beat 3/4 cup butter and 2/3 cup sugar in a large bowl until light and fluffy.
Beat in eggs and yogurt until blended.
Alternately fold in flour mixture and apple butter, beginning and ending with flour.
Fold in the chopped apples.
Fill cupcake liners 3/4 full.
Bake for 25-30 minutes or until cupcakes bounce back when touched.
For the Vanilla Buttercream Frosting:
1 cup unsalted butter, room temperature
3 cups powdered sugar, sifted
4 teaspoons vanilla extract
2 tablespoons milk or heavy whipping cream
Beat all ingredients together until creamy.
For the Mini Caramel Apple Candy:
Grease an 8×8 inch baking dish.
Fill a small bowl with 2 tablespoons cinnamon and set aside.
In a small saucepan, bring cream and 5 tablespoons butter to a boil, whisking occasionally.
Remove from heat and set aside.
In a large, heavy saucepan, bring the cider, corn syrup and 1 1/2 cups sugar to a boil. Stir to dissolve the sugar.
Continue boiling until mixture is a light, golden caramel.
Add the cream mixture and simmer, stirring frequently, until candy reaches 245º (known as the soft-ball stage). To test if the candy will be the correct consistency, drop some of the mixture into a cup of cold water. It should form a soft ball that is about the consistency that you want the final candy to be.
Pour the candy into the prepared baking dish.
Allow to cool for about five minutes or until you can comfortably touch it.
Working quickly, use a melon baller or your hands to make small balls of caramel. If the caramel gets too hard to work with, you can microwave the baking dish for one minute to soften it. Note that you will end up with many more candies than cupcakes.
Use a skewer to attach small pieces of apple peel to the top of each caramel ball.
Dip the bottom of each skewered caramel ball in the bowl of cinnamon.
Store in a sealed container at room temperature.